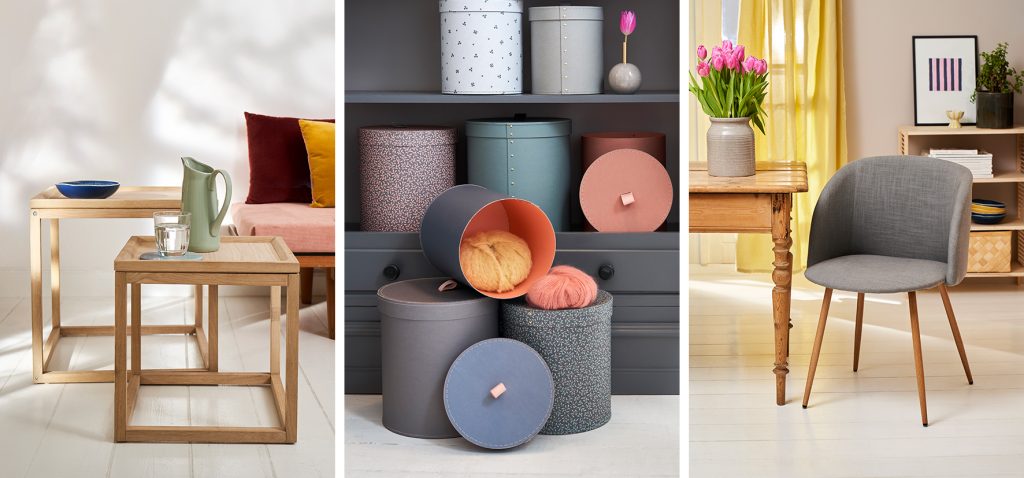 This spring Søstrene Grene presents a new collection that with a wealth of novelties and iconic classics pays tribute to nostalgia and welcomes a new season. Explore the collection which, amongst other things, include a coffee table made from solid, FSC®-certified oak wood, colourful ceramics and the sisters' classic chair with teddy fabric.
With inspiration found in old traditions and fine craftmanship, Anna and Clara have created a collection that pays tribute to nostalgia and evokes memories. This happens with the launch of a wealth of novelties in wonderful company of a series of the sisters' historic classics that will be relaunched.
The collection includes inspiration for the entire home, including the living room, the kitchen, dining, the workspace at home, and green life in the home.
Among the many novelties, the sisters this season present, a new coffee table made from solid oak available in two sizes. The oak wood is FSC®-certified, meaning that the wood has been harvested to benefit communities, wildlife, and the environment.
With the new collection, the sisters' well-known chair is also launched in three new colours and with new upholstery in linen quality. The chair will furthermore be available with soft teddy fabric for a brand-new expression in the spirit of the times.
Every week all year round, novelties can be found in the sisters' stores and at www.sostrenegrene.com. And with the launch of the sisters' webshop, it is now possible to explore
and shop finds from the collection from the comfort of your own home. Discover everything from ceramics, stoneware and kitchen utensils to chairs, coffee tables, flowerpots, and vases, and have it delivered by your doorstep.
The new collection is available from Thursday 25 March 2021. Please notice that a few products can be delayed due to the corona pandemic. For enquiries regarding specific products, please contact Søstrene Grene's PR team at pr@sostrenegrene.com. All products are available while stocks last.
The press material can be published from 11 March 2021.
Please notice that the chair with teddy fabric unfortunately not will be available in the sisters' stores in England and Northern Ireland.
With the wish of an enchanting spring.
ENCHANTING SPRING COLOURS AT THE TABLE
The sisters' new collection includes a wealth of ceramic novelties for colourful and decorative table setting. Explore, amongst other things, rustic espresso cups and the new stoneware with hand-painted 'splash'-details available in three colours.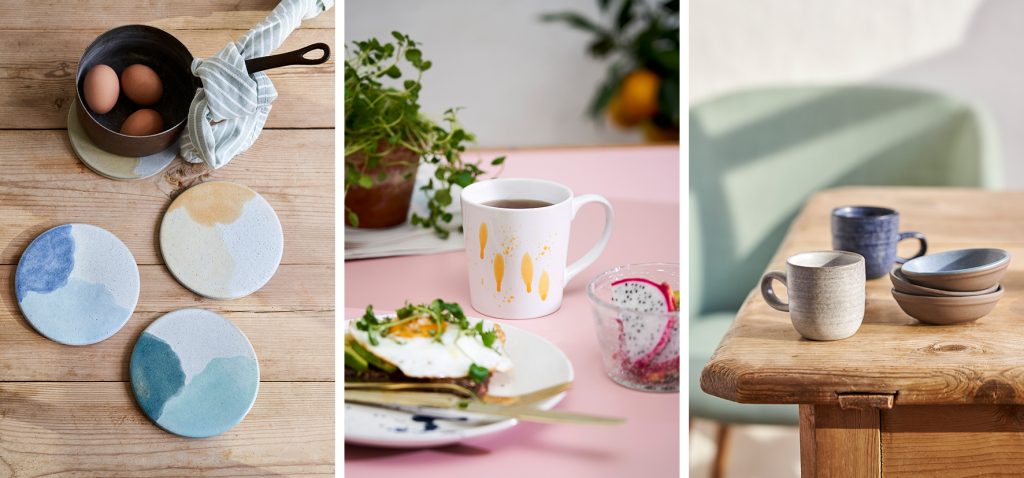 Trivets. Hand-painted stoneware. 14.5 cm. Price per item €4.34.
CREATIVE KITCHEN UNFOLDING AND TASTY PURSUITS
The key to letting creativity blossom in the kitchen is found in having the right tools at hand. So believe the sisters, who this season present new inspiring kitchen storage items such as glass bottles, pretty patent jars and reusable food bags.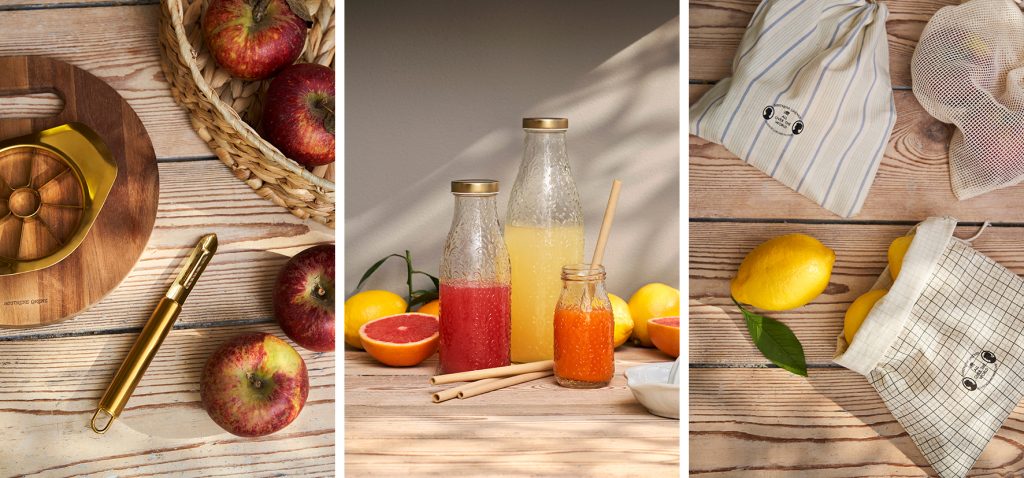 Reusable food bags. Available in several variants. Price per item from €1.42.
ROOM FOR HOMELY CONTEMPLATION
More than ever before it is essential to have a space in the home with room for contemplation. Create inspiring settings for focus and thought with the sisters' novelties for the home office which includes practical storage items and useful tools, amongst other things. Did you know that all Søstrene Grene's stationery paper products are FSC®-certified? By choosing these products, you are supporting responsible management of the world's forests.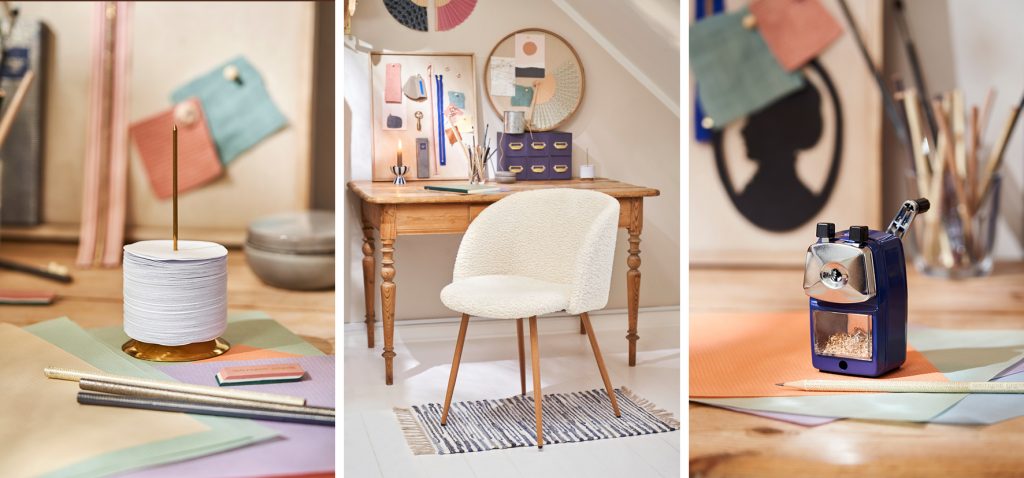 Chair with teddy fabric. Price per item €73.80.
GREEN OASES AT HOME
This season, the sisters also wish to inspire brining plenty of flowers and plants into the home. Therefore, a new, wide selection of flowerpots and vases in different materials, sizes, and shades. The inspiration for the glazed flowerpots is found in old-fashioned jam pots.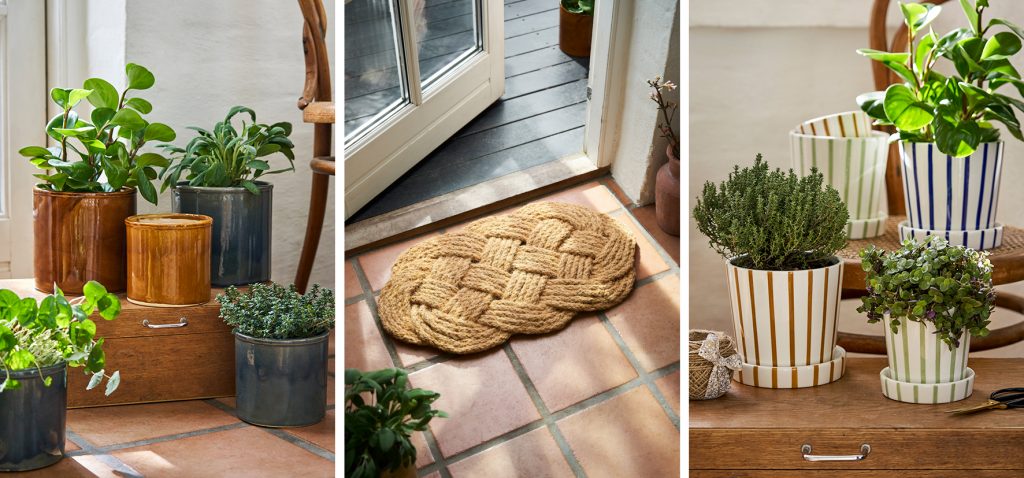 Striped flowerpots with hand-painted stripes. Available in two sizes and three colours. Price per item from €4.84.
DISCOVER THE HISTORIC CLASSICS
Besides a wealth of novelties, the sisters are also relaunching a series of historic classics this spring. This includes, amongst others, lotus candleholders in fine colours, decorative fans and the elegant crane scissors that could be experienced for the first time in the sisters' selection of sewing equipment in 1974.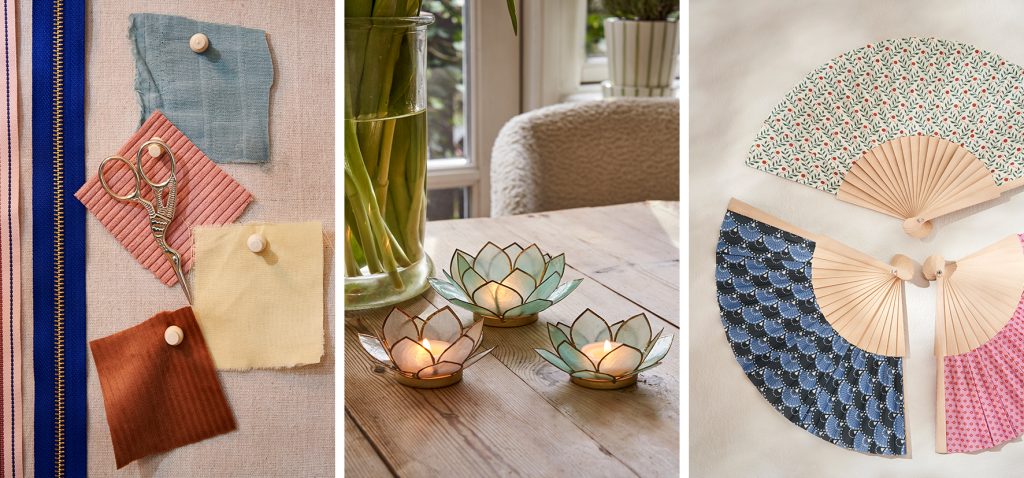 Lotus candleholders. Available in two sizes and four colours. Price per item from €3.98.
EXPERIENCE MORE IN THE PRESS MATERIAL
Find press photos, product specifications and prices through the link: https://press.sostrenegrene.com/download/imagebank-nostalgic-moments-2021/
If you need a password for the image bank or further information about any of the products, you are more than welcome to contact us at pr@sostrenegrene.com
Please note that the press material can be published from 11 March 2021.
For more information, please contact:
Senior Press and Communication Specialist, Camilla Thorsø Lund
E-mail: Camilla.Lund@sostrenegrene.com