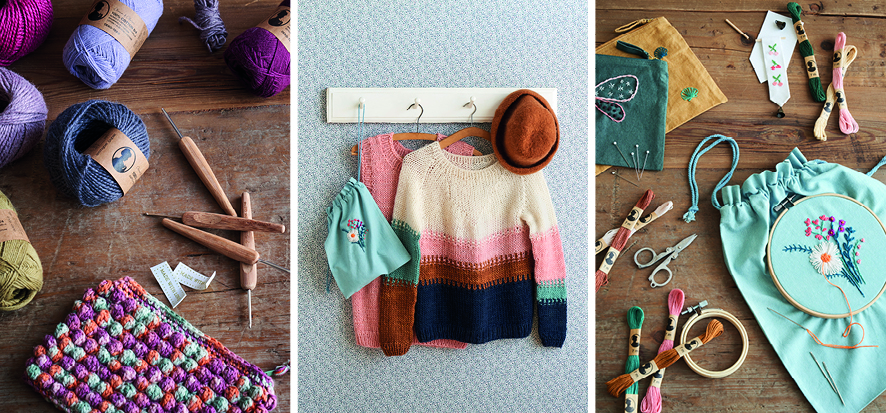 This autumn, for the first time ever, Søstrene Grene launches a free pattern booklet which includes 18 knitting and crochet patterns as well as ideas for embroidery. Along with the new pattern booklet, a series of novelties for yarn and needlework are also introduced, including a new selection of regular and circular knitting needles, crochet hooks, embroidery articles as well as wool and cotton yarn in a wealth of colours.
With the new pattern booklet and a series of novelties for yarn and needlework, this autumn, Anna and Clara wish to share their common joy of yarn in the hope that many others will find themselves inspired to pick up crochet hooks, knitting and embroidery needle.
On 17 September, the sisters thus present a new, inspiring selection of articles for yarn and needlework at prices where everyone can join in. On top of that, a new pattern booklet by the name "The joys of yarn" is introduced for the first time ever. The booklet includes 18 patterns and ideas for big and small creative yarn projects, counting a wealth of patterns for knitting and crocheting as well as embroidery ideas for beginners and experienced needleworkers.
The desire to foster ideas and offer the right tools and materials for creative pursuits has always been central to the wonderful world of Anna and Clara, and yarn has been part of the permanent assortment at Søstrene Grene since the foundation in 1973. Thus, the selection at Søstrene Grene is based upon decades of experience with selecting and handling yarn and tools of just the right quality at a price where everyone can join in. "Ideal for those who value quality and not having to pay a fortune," as Clara says.
Remember that you can always find yarn at Søstrene Grene. Furthermore, in connection with the publication of the sisters' new pattern booklet, a line of novelties within yarn and needlework is launched Thursday 17 September 2020. These are available for sale while stocks last.
Please note that the press material may be published from 3 September 2020.
10 KNITTING PATTERNS FOR ALL AGES
In the new pattern booklet, the sisters share ten knitting patterns, including the pattern for an elegant woolly vest, an airy wool jumper and mittens and hat for the little ones. With the novelties, regular and circular knitting needles in a wealth of sizes and soft wool yarn in fine colours are also introduced. For Anna and Clara, the joy of needlework is found both in creating and gifting the homemade projects for their dear ones who then also can enjoy them.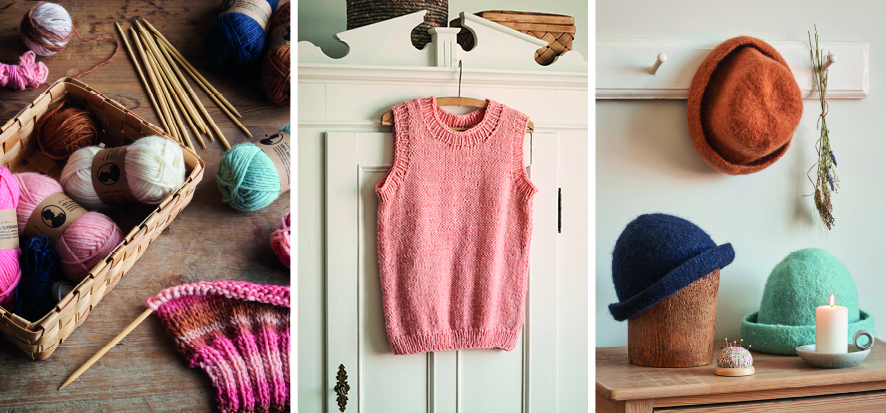 FOUR FINE CROCHET PATTERNS
Crochet hooks and colourful cotton yarn has been available in Søstrene Grene for years, and now, the classics are presented in new editions and colours. The pattern booklet includes four crochet patterns, with which the hope is to inspire others to get out the crochet hook and discover the many possibilities of yarn. Amongst others, the pattern booklet includes a pattern for a baby blanket and a colourful tote bag also ideal for giving yarn scraps from previous projects new life.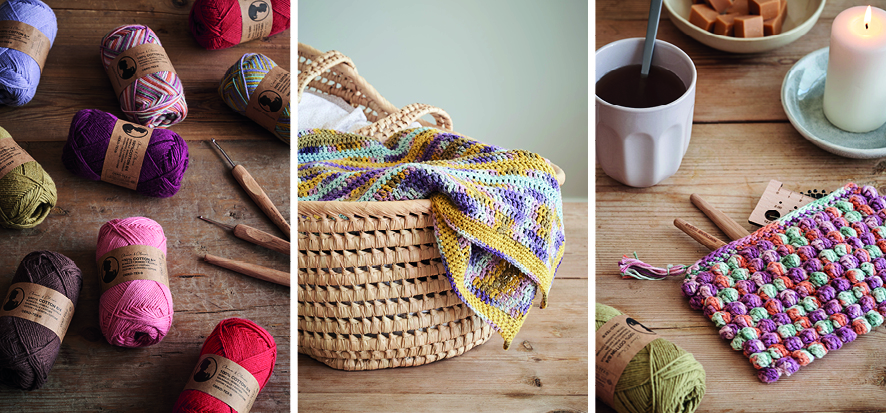 FOUR FINE IDEAS FOR ENCHANTING EMBROIDERY
Both larger embroidered pieces and small details can bring new life to newly purchased as well as older textiles. With the sisters' novelties for yarn and needlework, a series of embroidery articles and embroidery yarn are also introduced. The yarn is sold in sets of six different colours. The new pattern booklet also includes four fine ideas for embroidery and a guide with a short introduction to some different embroidery stiches which also allows beginners to delve into the craft of embroidery.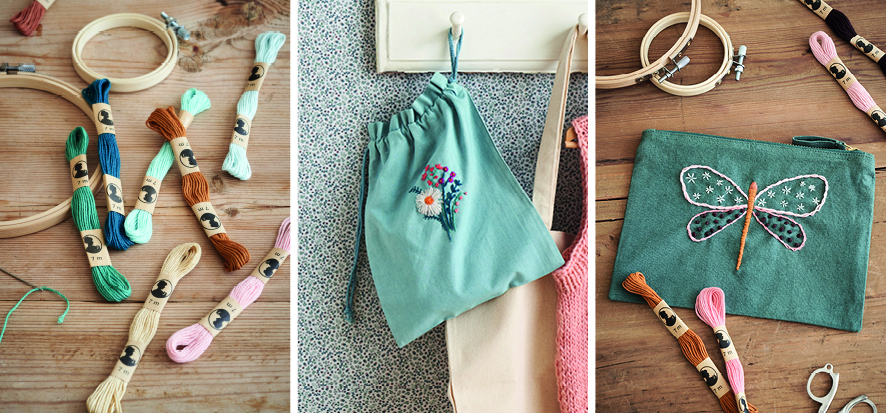 If you need a password for the image bank or further information about any of the products, you are more
than welcome to contact us at pr@sostrenegrene.com